11 march 2019
VMP Vlasova Mikhel and Partners top-rated in Chambers Europe 2019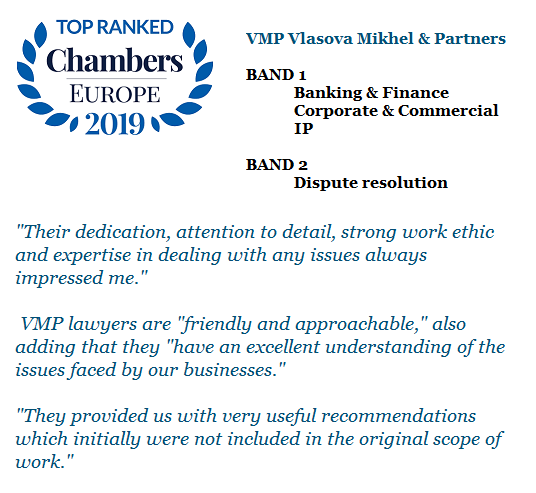 The international legal directory Chambers Europe 2019 has confirmed top positions of VMP Vlasova, Michel and Partners law office in the main legal practices: corporate and commercial law, bankштпand finance, intellectual property and dispute resolution.
According to Chambers Europe 2019, VMP Vlasova, Mikhel and Partners is a "highly acclaimed practice with a strong reputation for advising foreign clients on large investment and market entry projects. Further strengths include construction mandates and a solid M&A practice. Stellar IP team regularly advises on registration, protection of trade marks and domain names. Further expertise in anti-counterfeiting. Strong client roster includes big names from the telecommunications, construction and retail sectors."
Interviewees are very pleased with the firm's performance, with one impressed client saying: "Their dedication, attention to detail, strong work ethic and expertise in dealing with any issues always impressed me."
Sources confirm the lawyers are "friendly and approachable," also adding that they "have an excellent understanding of the issues faced by our businesses."
"They provided us with very useful recommendations which initially were not included in the original scope of work."
In the individual ratings, all VMP partners — Konstantin Michel, Ekaterina Zabello, Svetlana Dashuk, Tatiana Emelianova - in Corporate/Commercial, and Olga Nikolaeva in Dispute Resolution took top positions.
In Banking and Finance and Intellectual Property practices, VMP partner Tatiana Emelianova, the head of relevant practices, has been recognized as the undisputed leader in Belarus.
Her professionalism and approach to work is highly valued by clients. Tatiana Emelianova "is a towering figure in the Belarusian market, with sources praising her longevity and expertise. One impressed client describes her as a "top-tier professional with in-depth knowledge of the industry sector and strong negotiating skills." She has a strong track record in advising international banks and financial institutions on syndicated loans, projects and acquisition finance"